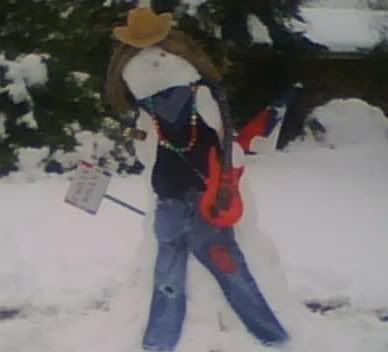 I enjoyed the snow days, even though we're not used to 'em down here. I bet I'm not the only DFW dingbat that forgot to buy a snow shovel this year. Doh! 49 states got snowfall concurrently! Freaky. And don't go telling me how this disproves global warming cuz ya got yr
science all wrong
and don't understand climate change AT ALL. Round here we got a record setting blanket of white that topped out at 12 inches. That's a LOT for Dallas. Chilly Willy's keepin cool, and I'm sitting here warming my slippered feet by the fire, tucked in tight and watching it all melt away. Times like these I recommend digging into the spectral/psych/astral folk heap if you can.

This is My Music: Vol 6, Part 1 (Spirit of Love)
James Blackshaw
The Glass Bead Game
(Young God) CD - What Blackshaw does with 6 and 12 strings truly exceeds the expectations of so called raga-blues, a style that as exemplified by folks like John Fahey and Jack Rose, really already has no limits in terms of the way melody and repetition can be extended, sculpted and collapsed in on themselves to reveal new sacred modes of communication. If ya ask this old fart, no other 6/12 string open-tuned picker so adequately melds the tangible, natural side of life with the Other World. Blackshaw has a visionary understanding of composition as meditation and the deeper spiritual concerns that guide us all. After all, the album's title derives from Herman Hesse's final epic novel of utopian ascendancy and the resultant stagnation that comes when progress is no longer on the menu. Where do we go when we're already there? A question maybe best left unanswered, but meditated on all the same. These 5 songs are drawn from a well so deep, and augmented by subtle embellishments of cello, flute and harmonium, to reveal the infinite emotional possibilities of a genre we thought we knew through and through.
It's to Blackshaw's credit that he's never afraid to reveal the influence early minimal composers like Terry Riley and Steve Reich, as well as older Romantic traditions and jazz greats like Albert Ayler have had on his rapturous string music; but his compositions of quick flowing rivers of fingerpicked strings and resonating vibrations are worlds entirely of his own making. Moments of this record rank with anything that was ever created to invoke beauty, to reveal the sacred, to illuminate the darkness.
The Goner
Hind Hand/Haven
(Deep Water) 2CD-R (
Deep Water
) - Another swell new discovery in '09, courtesy of Kevin Moist's forever-expanding Deep Water universe, comes these spectral musings of one Swede and a guitar. The Goner emerges from the Scandinavian wood as a fully functional one man psych-folk unit. This 2-fer combines two albums from '08 into one affordable package, and its vibe is one of Earth and wind meeting the most tender kind of confessional folk songs. "A Song" in particular is a knockout of redemptive longing that sounds kind of like a cross between early Mountain Goats and Six Organs of Admittance lost in the frosty wild. Otherwise there's the spaced out raga flows of "Travelogue" and the delicate layered picking of "Harbor Song," though accented by some effects weirdness and percussion, still sounding entirely handmade and in the now. The all instrumental
Hind Hand
focuses more on tone and atmosphere in styles ranging from early Amon Düül inspired percussive deluge to more meandering flows of raga and drone.
Hush Arbors
Yankee Reality
(Ecstatic Peace) CD - It's been cool watching Keith Wood, who basically
is
Hush Arbors, evolve over the years from a one man bedroom folk psych noise project, as documented on the brilliant
Since We Have Fallen
(originally released as a li'l edition CD-R in Digitalis's Foxglove series and since dropped on vinyl by Harvest) to real deal psych folk rock craftsman. I knew then Wood was up to something special. Couple years later I saw him sit in on lead guitar with Sunburned Hand of the Man (still the best gig I've seen by that free noise/psych boogie unit) and remember a moment when Wood stepped to the mic and sang. It was the only remotely conventional number of the set and it totally killed. The rest was outer-space tribal industrial caveman sludge of the highest order, but it was this one actual song, with Wood's unmistakably high timber up front, that totally enthralled and left me hungry for more.
Soon after Wood would travel overseas, find love, find David Tibet (him again) and perform guitar on pivotal records by Current 93 and Pantaleimon, as well as tour with the dearly missed Jack Rose and play guitar with Six Organs of Admittance during their '06 tour. He's since honed his craft, wrote songs, signed to a bigger label, and now comes
Yankee Reality
.
When I say it's been a pleasure watching this guy evolve, this album is the ultimate representation of why that is. Wood spent a lot of time moving around, hooking up with different kindred spirits throughout the South and Midwest US before finding a larger audience. What really emerged on those early Hush Arbors records was an appreciation for the solitude of nature and the mystical beauty of trees, massive sprawling, seemingly alive trees. Many of my favorite roots-psych albums are about the need to escape urban desolation and get out into the untamed wild, but
Yankee Reality
is about exactly what it says: the harsh reality of leaving the woods behind for the sake of "modern living." Perhaps that's partly the reason so many of the songs on this record kick-ass with faster tempos and fuzzier backdrops, but the structures and melodies can be traced directly to the West Coast psych explosions happening in LA and San Fran in the late 60s, Neil Young, The Band, right on down the line to more modern alt country and indie rock developments, from MV/EE to the Sky Green Leopards. Wood sprinkles it all with his own fairy dust though and just happens to emerge as one of his generations finest songwriters in the process.
Bert Jansch L. A. Turnaround / Santa BarbaraHoneymoon (Drag City) both CD - For folkniks and true believers alike, Drag City's reissue of three of Bert Jansch's Charisma records from the '70s is cause for much rejoice indeed. It could be said that no one guitarist is more responsible for the development of the modern folk rock guitar sound as envisioned circa 1974. As much as John Renbourne or Richard Thompson, Jansch is an architect of the myriad styles and developments that have come to fall loosely under the acid and astral folk banners. He first came to my attention via his recordings with Pentangle, which combined trad Brit folk melodies along with jazz and blues modes into a intricate folk rock jams, but for me it's the Jansch stuff further down the line, as so perfectly captured on L.A. Turnaround (recorded in '73) and Santa Barbara Honeymoon (caught the following year) that reveal an amazing poet and songwriter in peak form, doling out timeless meditative folk melodies that ride the fine line between country, blues, British folk and jazz to reveal lucid tone dreams that offer one Brit's perspective on the burgeoning Americana roots scene. Neil Young and Graham Parsons could be counterpoints to what Jansch is up to here, but his languid pace and fine voice (augmented but mostly two acoustic guitars and lap steel) offer a welcome British perspective on the proceedings.
Of the two albums,
L.A. Turnaround
(featuring session work by Mike Nesmith of all people!) is my favorite. It's production crisp, its meld of styles and traditions peerless, but
Santa Barbara Honeyman
is every bit its match, and includes a brilliant cover of Jackson Frank's immortal folk anthem, "Blues Run The Game." Excellent liner notes, pristine remastering jobs and lots of bonus goodies make for some essential British psych folk here, folks. Good on Drag City for putting these beauties back in circulation.
Marissa Nadler
Little Hells
(
Kemado
) LP - 4th record from this old world inspired folk chanteuse continues her journey through bittersweet nostalgia and mellow psych folk dream pop. There is something about Nadler which lies beyond any kind of critical appraisal. Like James Blackshaw, her songs and the characters in them almost exist beyond concepts like ecstasy or grief. Nadler's songs are soundtracks for the lost dreams of sad drifters who have been through the ringer a few too many times, and slowly come to accept the grim terms of their seemingly predestined fates. It's liks listening to a frozen snapshot of hope withering before your ears. Grim stuff, but in Nadler's hands, along with her chosen accomplices, that entropy is something quite poignant and beautiful to behold. It's all a bit dainty and melodramatic for some, I suppose, but I remain transfixed. And remember, no prophecy is set in stone.
Six Organs of Admittance
Luminous Night
(
Drag City
) LP - Here we have it, good friends: the ultimate nexus of Ben Chasny as soul-bearing tune-smith and dark-noise spirit-conjurer. The songs here rank as some of SOOA's most thoughtful psych folk compositions, drawing heavily from Brit psych folk greats of yore (Bert Jansch, Jackson C. Frank -- who was actually American but still somehow remains inherently British -- and John Renbourn to name a few). Especially mind-blowing is the hypnotic tone-mantra, "Bar-Nasha," a recurring ode to none other than The Son of Man, which evokes images of fanatical young believers dancing 'round ancient fires, hands skyward, hearts/minds open to infinity. Also of note, the stoned and sad "The Ballad of Charley Harper," which backs gorgeous layered vocals with squealing acid undercurrents in a way reminscent of Flying Saucer Attack's finest album,
Further
. As with past Six Organs records, there's breathing room for weird instrumentals and free-form drone dreams. Both "The River of Heaven" and "Enemies Before the Light" are my favorites of these. The former borrows an old Stooges melody, which I have no doubt was already borrowed from elsewhere, and recasts it as ancient tribal rite. Closer, "Enemies Before the Light," is one of Chasny's most indelible pieces of music yet with its esoteric spiritual vox moaning over a dense feedback wash, and the most fucked up/glorious acid blues solo of 2009, which ends up sounding more Celtic than Delta before it's finished. This is at once the most frightening and soothing Six Organs of Admittance record I've heard so far. Like a hand held by a close friend on your deathbed. Fear not, proud pilgrim.
Trembling Bells
Carbeth
(
Honest John's Records
) CD - Trembling Bells is the brainchild of the great avant-percussionist Alex Neilson, whose drum-work can be heard on recordings by Current 93, Jandek, Neilson/Youngs and more. Trembling Bells exists as an attempt to create a bridge between the British Isles trad folk styles and more recent free-noise and psych folk developments. The thing is Trembling Bells is really just a balls-out, glorious, celebratory folk rock ensemble, a genuine band that is as true to the old sound as it is completely and passionately played with blistering conviction for modern ears, and modern times.
Carbeth
is no throwback, but it is part of a chain. A chain of song, a chain of remembrance and growing. Albums like this are simply not supposed to be released in pristine form circa 2009, but here it is happening right now, and here you can listen if you wish. To these ears,
Carbeth
rates as one of the greatest Brit psych folk records of all time, plus one hell of a debut.