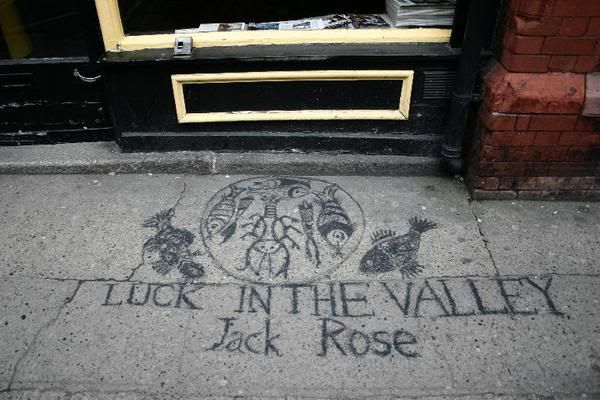 As some of you may know, this past weekend there was a celebration of the life and times of
Jack Rose
-- in two parts -- A Record Release Show for
Luck in the Valley
(Thrill Jockey) in Philadelphia (Jack's home town for the last 10 years) at The Latvian Society on Saturday, and the next night
A Valentine For Jack Rose
at Brooklyn's
Issue Project
. By all accounts these were two nights of magic and celebration involving many of our favorite weird folkies and blues dogs here in The Womb. Below is a heartfelt summation of events written by
Bob Bannister
, a fine gentleman and guitarist, whose work with Tono-Bongay, PG Six and
under his own name
should not go unnoticed:

"To begin with, the night sustained that really strong sense of community and mutual respect that is such a big part of "this thing of ours" – joyous (and sad, in this case) and invigorating.

Opening were the Megajam Booze Band – 9 or 10 people, of whom I immediately recognized Harmonica Dan and Jesse Trbovich, plus I think Willie Lane was up there, no doubt others you know. They set a suitably Dionysian tone with a 20-minute over-the-top jamming version of "Proud Mary" – all in all it was a high-energy hard-drinking night (whereas the Issue Project Room show the next day was more acoustic and sombre).


Following was
Meg Baird
with
Chris Forsyth
and Willie Lane – they did a couple of tunes from Meg's solo repertoire and closed with a version of Hoyt Axton's "The Pusher" that was pretty astonishing – lots of Verlaine/Lloyd-isms from the electric guitars and Meg really let rip on the vocals; her solo work, as you know, tends toward the more delicate, so it was an exhilarating move.
I'm going to lose track of the order and will be really embarrassed if I leave anyone out.
Black Twig Pickers
you know well. They did 5 or so characteristically engaging numbers – a take on "Kensington Blues" with
Hans Chew
adapting Jack's part on piano, and a piece called (I think) "Dan's Friend's Blues" that was gently elegiac, two slightly different melodies alternating unhurriedly. A big part of their appeal is the sense of a return to the pace of rural life, before the hyper-charged, urban migration, bluegrass style began to predominate.
If you've heard
Byron Coley
read before you know what to expect, and even if you've only read his writing, his live performance won't surprise you – sharp, irreverent humor with an oblique but fierce defense of the countercultures (the real ones!) that he has tirelessly championed for 30+ years. His poem for Jack was a gruff, funny, loving send-off – we should all be so honored.
Glenn Jones
mostly played 12-string, including the excellent title track from his new record "Barbecue Bob in Fishtown," the title itself a nod to Jack. Sunday he did the banjo piece from the same record, "Keep It A Hundred Years" – I forget if he also did it Saturday.
Pelt's
performance was astonishing by any measure – more so when contrasted with the Black Twig Pickers music. They started with the Tibetan singing bowls, making a shimmering luminous cloud of sound, and finished with an oceanic roar of gongs and cymbals. For the mystically minded among you, I'd call it the sound you'll hear while you're in the bardo of rebirth and I conservatively estimate 10,000 souls found themselves reborn by the end of it.
In between several of these performances were video segments – interviews and performances that I think were from the forthcoming "The Things That We Used to Do" DVD (pretty sure, based on the trailer) and Tara Young's interviews with Jack for her film on
Michael Chapman
. For a guy who would already be described as "larger than life," to have him projected 8 feet high on the wall above your head was intense to say the least – the interviews capture his personality well, a beautiful memorial, and the performances are riveting.
Michael Chapman's performance was as steady as you'd expect, with the kind of confidence that comes from 40 years of playing. His guitar sound is a big bear-hug of a sonic embrace, his voice gravelly and sure and his unsentimental affection for Jack matched the emotional tenor of the evening.
It hadn't been a quiet night but
Paul Flaherty
,
Chris Corsano
,
Thurston Moore
,
Samara Lubelski
and
Bill Nace
weren't running the risk of bringing down the energy level, presenting a sustained high-energy improv tumult, with Flaherty staying in the topmost register of his horn.
D. Charles Speer
closed with a long boisterous set – you'd think after 3 or 4 successive generations of people compellingly spanning multiple genres, there'd be no surprises left, but there is still something noteworthy about a set of musicians with so many experimental music connections returning to such straight-up country rock – gives a glimpse of how the Flying Burrito Brothers must have seemed, turning up at the crest of psychedelia.
This is already way too long, but I need to give a few shout-outs to the Sunday night lineup at the Issue Project Room in Brooklyn.
Tom Carter's
massive drone-guitar tidal wave was a great contrast to almost everything else either night, as was
Marcia Bassett's
more dissonant threnodic performance for voice and guitar.
Steve Gunn
did a short but beautiful set – anyone who hasn't heard his
Boerum Palace
record should try to do so. Pelt added
Tony Conrad
as a guest and did a huge
Outside the Dream Syndicate
drone, starting with three violins and two harmoniums – again, impressive on its own, but even more intriguing in the context of all the other music they do."
Thanks so much to Bob for sharing!