Not sure if I ever mentioned the greatness of
Gram Parsons W/ The Flying Burrito Bros'
(hey, that's how it's listed!)
Live at the Avalon Ballroom 1969
(Amoeba Records). This 2CD is Volume 1, so I hope there's more to come in the series from around this period. Taken from the Grateful Dead's live vaults, these two shows from early April '69 showcase The 'Bros in peak form with their classic lineup intact and Sneaky Pete Kleinow's fuzz-box pedal steel raining down like liquid phosphorus all over the Avalon. Even better you can compare the two similar but distinctly different sets from the same tour and see how utterly in the coZmik boogie zone these boys really were, even if only for a short while. Beautiful, beautiful performances captured at soundboard quality. Classy album styled packaging with vivid recollections from the period in the liners.
Some Live Aktionz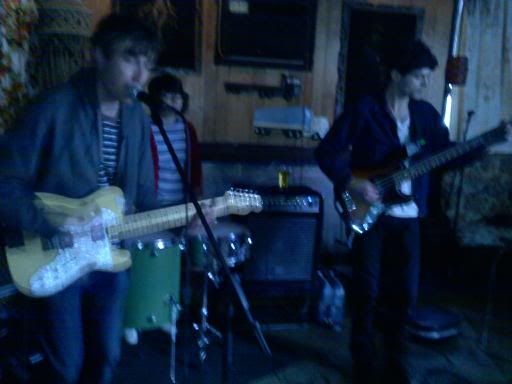 Made it out to a few sweet shows this past week, including
Woven Bones
and
Tinsel Teeth
(at Brofest). I hung out for a little more action (including
Naam
and
White Mice
), but didn't really feel like watching 10 plus bands straight through on a Sunday, so bailed pretty early. That's right, no
Sleepy Sun
. No
Liturgy
. The horror (or non horror as it were). I'm sorry I missed Liturgy actually but also have a feeling their brutalistic blackened onslaught might've been the death of me. Old fart right here. Tinsel Teeth's singer (TT is a hXc noise rock nightmare with a small female screamer on vox) stripped nearly to nothing but bra and torn tights and screaming in the faces of/collapsing on various audience members was both hilarious and kind of pitiful to behold, as I'm sure was the intention. She came off like a rape victim trying to get
anyone
to call for help, or maybe the last survivor from the original
Texas Chainsaw Massacre
just after she'd jumped out of the window and finally made it out to the highway. So, naturally, when she slammed into me, I did my
Kung-Fu Panda
SKADOOSH thing and she flopped right off the belly and smacked the floor like a fish. I went to help her up, but some valiant buck beat me to it. Tinsel Teeth provided one of those what-the-fuck(?) train-wreck type live experiences that left me wondering if people too often confuse creative expression with seething, mutilated rage. Regardless it's neat to see all the hipster stoics in their tattered hoodies holding their own like billiard pins in the wake of her elephantine bumper-car angst. Woven Bones were less...complicated. Minimal bass/guitar grooves with reverb-drenched vox and a cute lil Mo Tucker chick w/ glasses smacking the snare and floor bass (no cymbals per Mr. Reed's instruction), and though they sadly did not play "Let it Breathe" from the Janie 7", I was still adequately rocked 'n' rolled in a Wooden Shjips meets early JAMC kind'a way.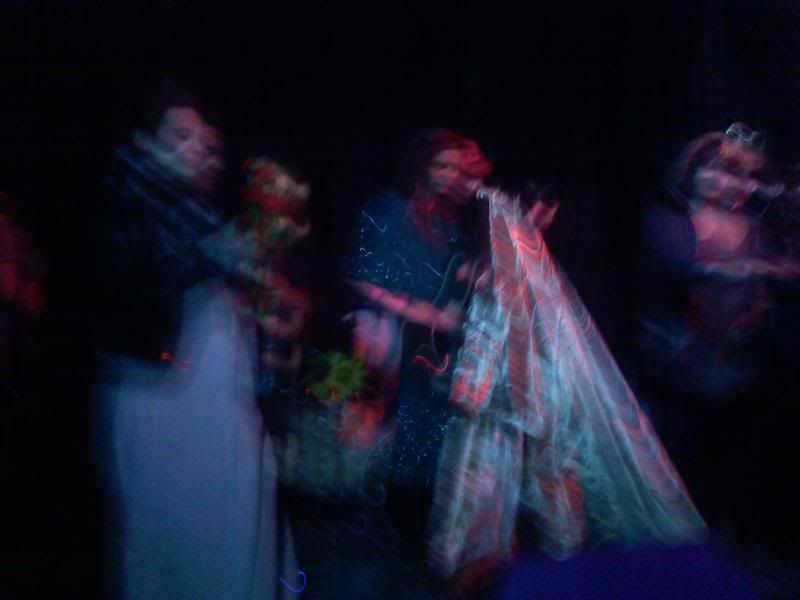 The next night -- a Monday night mind you -- it was time to get
Pocahaunted
, drench the
Wet Hair
and get raddled by
Rene Hall
at The Lounge on Elm.
Blissed Out
and local mellow psych merchants
eyes, wings and many other things
rounded out the bill. I guess I arrived too late for Rene Hall, but Blissed Out brought their big fuzz/beat driven sonics down on the Lounge like a thousand com satellites crashing to Earth at once. Maybe I just don't do enough drugs anymore to really enjoy these subliminal noise barrages, but it made for an agreeable background whitewash while smoking cigarettes and sippin' mixed drinks on the porch. Headed upstairs for the bird's eye view of Wet Hair, Shawn from
Night People
/Racoo-oo-oon's (rip) new-ish duo project of banks of synths with live drums and echo-drenched vocals. Three long tracks ranged from gooey glowing dollops of Spacemen 3 worship to further refracted beams of syncopated beats and komische drones. Pocahaunted (who I'd not seen before) were operating in a slightly more conventional mode with the release of their rockin' new Not Not Fun platter,
Make it Real,
featuring some real
eye-popping cover art
to go with its groovy Raincoats-gone-West-Coast-psych vibe, and live these three ladies and two lads are a sight to behold. Musically we got grooved out goth rainbow trances and methodical tribal rhythms graced with ceremonial war paint and sparkly sequined wraps and gowns. I was reminded of the incomparable awesomeness of The Spires That in the Sunset Rise with less witch and more squaw, but as the wording suggests Pocahaunted aren't exactly up to the Spires comparison just yet, but at least they're reaching and in the process teaching.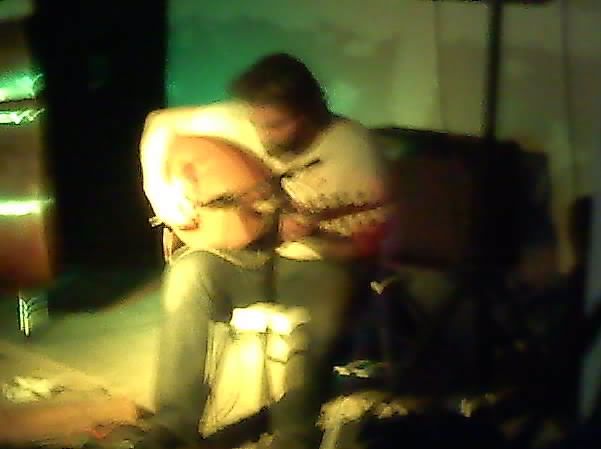 Then just this past Saturday made it out to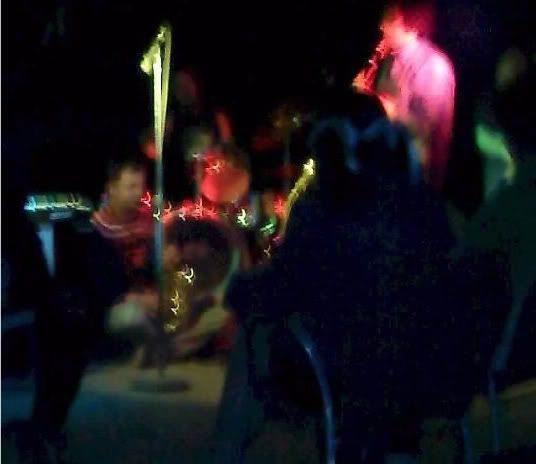 the Phoenix Project for a night of jazz -- two performances, one a quartet the other a trio. The quartet of
Norwegian bassist
Ingerbrigt Haker Flaten
(also of The Thing with Mats Gustafsson)
, Stefan Gonzalez
(drums),
Jason Jackson
(sax) and
Nick Cabrera
(clarinet) started with the revered bassist playing upright acoustic for half the show, then plugging in the electric for a while. The brass players were a bit more low-key and distant beneath the Haker Flatten/Gonzalez rhythmic low end, alternately punctuated and robust and flickering like a prairie fire in the wind. The final track with Inger on electric bass went deeper into mid '70s Kraut fusion territory and pulled me in nicely. The closing trio of Vancouver's Gordon Grdina on guitar and oud, Haker Flatten on bass and a phenomenal Canadian percussionist whose name I can't find (bad!) offered more trad swing interspersed with stellar region string eruptions that tempered the primal rumbling builds of Sonny Sharrock with the gale force winds of Sonic Youth. Every player in this trio delivered stunning, world class performances that kept me tuned throughout on a sonic level and completely fascinated in terms of physical dexterity and observational telepathic precision. All in all, another memorable night of world class jazz at the Phoenix Project here in Big. D.