Thoughts on Neil Young and Bert Jansch Solo Live
Bert looked and sounded great. His voice was clear, his fingerpicked, rolling melodies as indelible and definitive as those classic albums from the '70s (two of which are
reviewed here
). My friend was new to Jansch (he's not an obsessive like
some of us
), but as I said, "even if you're not familiar with the Bert's music, you've still heard it." Anyone who's followed 60s/70s prog rock and folk over the last 40 years knows his music. And let's not forget that Jansch was one of the guys who always championed Jackson C. Frank and helped turn a lot more people on to him in the process. Sitting there in the Meyerson and hearing him explain who Frank was to the nearly packed house (of mostly yuppie fucks) and play "Carnival" from
The Black Swan
was something of a dream come true. I felt like the only guy in that big room that even knew who Jackson Frank was, but I'm pretty sure I wasn't. Thanks to Jansch, maybe more folks will go digging and find
something new
that just might change their lives all over again.
Young also played with no accompaniment. We reasoned that the high ticket prices were as much to handle the considerable transport costs of Young's
amazing stage set up
(including two pianos and a pump organ!) as well as a way to weed out the skeptics who might not really dig the opportunity to see/hear a legend in such an intimate, albeit large scale, setting. Even though the set was almost two hours, it felt like half that as Young spent a considerable amount of time strolling about the stage, surveying various instruments and occasionally picking one up and playing it. We were meant to see this as Neil at home, spontaneously trying out this and that. Still it was a carefully choreographed and planned performance (he didn't really stray from the
set list
) and as such felt like more than just a rock show. This was a a one man stage show:
The Story of Neil Young
. Whether sitting hunched over his acoustic, kicking out the jams on Old Black or gently walking the stage with his down-tuned resonator guitar, Young showed the packed house scenes from his life and that, yes, he can still play a guitar, and even though he's nowhere near the virtuoso that Jansch is, he has just as much to say and just as much passion backing those notes. Really dug "Love and War" and the unreleased "Hitchhiker" was definitely a monolith. And it's hard to beat "After the Goldrush" on pipe organ. Thanks for a night to remember, Mr. Young.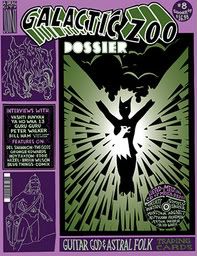 Also wanted to mention
Galactic Zoo Dossier
, which remains my favorite print zine today, though there are a few great ones still knocking about (
Yeti
,
Signal to Noise
,
Dream
among them). What makes GZD so darn special is
Plastic Crimewave's
(aka Steve Krakow) love of all things graphic art and especially vintage comics. So you get key interviews with Guru Guru, Peter Walker and awesome pieces on Eddie Hazel, The Gods (proto Heep!), Hoyt Axton and many more nestled alongside comic panels about acid tripping superheroes and psychsploitation curios from the 60s and 70s, with every single word written (legibly) by hand! And let's not forget the Guitar God and Astral Folk Goddess trading cards! Plus a CD. It's an institution.
Order it here
.
Shit I'm a' diggin' lately:
UNSANE
!
Aaron Dilloway
posted an
Unsane clip
on Facebook yesterday, and as a result I've downloaded their recorded output on the Ipod and been raping my mind with their noise-core delights. Such an amazing band! I never did get around to scribbling some words on those two
(Wooden) Wand
records that dropped last year, but I like 'em a lot, 'specially
Hard Knox
(Ecstatic Peace) and wanted to congratulate James Toth for making the move to the legendary
Young God Records
. That reminds me --
Swans are back
! But then maybe you knew that.
I'm happy that
The New Pornographers
are making good music again. I'd say
Together
(Matador) is their best record since
Mass Romantic
. And just to prove that their hearts are in the right place, they've simultaneously released an EP of
Outrageous Cherry
covers! Not sure if it's digital only or what, as I've only been able to find it on Itunes. Also in awe of the new
Exile on Main St.
expanded reissue. It's a monster and the "rebrushed" new songs (actually old takes with some slight mix tweaking) sound pretty stellar. I agree with those who wonder why can't this classic lineup reconvene and do it one more time? Give Woodsy his walking papers and get Mick Tayler back in the saddle where he belongs. Yeah, right! I want to see
this
too. Other things I love right now:
Woods
At Echo Lake
(Woodsist),
Phospherescent
Here's To Taking It Easy
(Dead Oceans),
Jack Rose
Luck in the Valley
(Thrill Jockey),
Rangda
False Flag (Drag City),
Ohioan
High Country
(Infinite Front),
Bonnie 'Prince' Billie and The Cairo Gang
The Wonder Show Of The World
(Drag City)
Voice of the Seven Thunders
s/t
(Holy Mountain)
and the reissue of
The Cleaners From Venus
tape,
Midnight Cleaners
(Burger Records), in its original format no less. Sounds sort of like Ariel Pink, but about a gillion times better. Never a dull moment, folks!
In honor of Neil, I leave you with stellar live version of "Get Right Church" from
MV/EE with The Canada Goose Band
: