Well I had hoped to post something about my SXSW trip this year, but never really found the time to reflect in depth. Been a busy two weeks. In brief:
Endless Boogie
lived up to their name (the singer/guitarist sported the coolest hairdo of the fest with a long straight black mop and short cropped goatee) and brought the epic trance boogie.
Outrageous Cherry
shone brilliantly at the midnight hour with their bubble-fuzz assault.
The Dicks
jerked hard at the Austin Music Hall.
Warmer Milks
screamed black fury at the blurry dark night at the Music Gymnasium with a five synth death dirge.
The Renderers
unleashed their charred noise twang on an unassuming patio of early-evening microbrew sippers at the Spiderhouse (and twice more at various other locales), and
The Wovenhand
exorcised the demons at The Soho with their hypnotic mix of post punk crash and Pentacostal wrath. A truly massive trio. And always happy to see
Naked on the Vague
uncork their industrial noise rock grime.
And there was more... the avant drone skree of
Zanzibar Snails
, the hillbilly stoner folk of
Phospherescent
, the dark country pop of
Handsome Family
(like the Renderers, all their songs are either about deep holes or dark caves) and the throbbing psych punk metal blast of
Earthless
with
J. Mascis
on second guitar... to name but a few.
All in all, SXSW '09 was one more panorama of shifting sights and sounds, but it was time spent with friends, including The Renderers and their violinist John White (he released a great CD on Last Visible Dog while back entitled
Mogwash
and performs regularly with Alastair Galbraith) and Jason from Bardo Pond, Tom Lax (he owns/runs Siltbreeze Records), his buddy PJ, and Mikey, Shawn, Mike again, etc that proved most beneficial. Tom Lax is a master chef and a really nice guy. He spun the new Blues Control and Tybek records upcoming on Siltbreeze, and both sounds like real beauts--thanks for the spins! And the stories. There were more great sets too, and a car crash in a Chevy Malibu filled with road-weary New Zealanders and their equipment, but thankfully no one was hurt and I guess I was about done with that car anyway. Later that night walking the streets of SXSW Day Four with John White provided more surrealist gems. At one point we noticed forty feet of sidewalk on 6th street that was covered with a brilliant arrangement of discarded paper plates that created a kind of polka dot flurry of white saucers like something out of a pop-art gallery. And we made it into Emo's just in time to see Daniel Johnston play "True Love Will You Find In The End." It's official, John, you've seen Daniel Johnston live. Also had a ball drinking whiskey and filling up John's ipod with all my weird rawk suggestions. He loves Daniel Higgs. Once again thanks to Nari, Womblife's guardian angel.
What else... I was lucky enough just this past weekend to see
L. Cohen
play his first (and possibly last) Dallas concert at the Nokia Theater in Grand Prairie, where through a miraculous series of events my companion and I found ourselves trading in nosebleed seats for 2nd row center right and the most perfect vantage point I've ever had at any such live spectacle. We were treated to three hours and six encores that drew from 40 years of recorded music and well beyond, complete with poetry recitations. Cohen is simply one of the most gracious, precise showmen I have ever witnessed on stage or in any other place. His world class 9 piece backing band, those beautiful Webb sisters, and all those hoots and applause--so uncustummary to my typical showgoing experiences--left a taste of the holy in my throat and a sense that anything is possible if we work hard enough and never stop believing in ourselves, and even something greater.
epic setlist
ticket and an article clipped from the Ft. Worth Star Telegram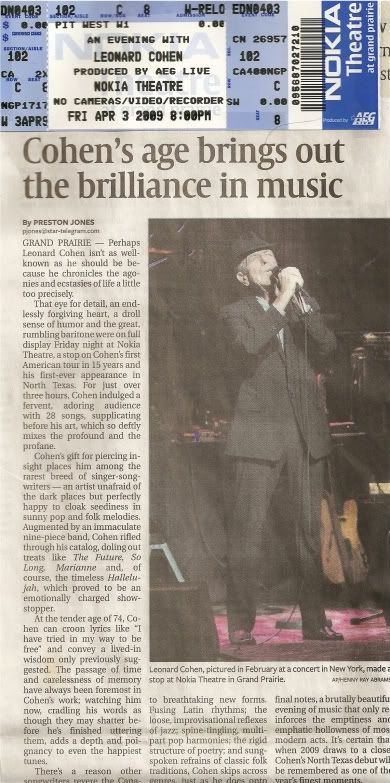 The very next day I made it over to The Granada to catch
Robyn Hitchcock
and his new band The Venus 3, featuring
Peter Buck
on guitar,
Scott McCaughey
on bass and
Bill Reiflin
on drums. Hitch was fresh off his appearance in Jonathan Demme's
Rachel Getting Married
(which is actually really good) and the third release with this lineup,
Goodbye Oslo
(Yep Roc), and in peak form throughout with his trio of alt rock heavies taking flight in some of the finest post Byrds/Big Star guitar pop I've seen on a stage since Big Star themselves when I caught them on New Years in New Orleans back in Y2K. Who knows where the time goes?