I'd wanted to write some sort of article or story to capture the ridiculous joy that was my little
Terrastock 7
voyage, but I've since decided to try something different. Click the previous URL to get some specifics from Ned Raggett, among others. Saw some amazing bands (Sapat anyone? Bardo? The Golden Road, Wooden Shjips, Kawabata, Pelt? Hello??!), caught up with some good friends and even made a few new ones. Rather than try to sum it all up in words I'm relying on the groovy fact that more than ever before, things were entirely recorded and captured by the concert-goers themselves, and ya know what they say about a picture, let alone one moving. (I'm sorry to report that over half of my own vids were lost in a recent harddrive wipe. I was sure I backed them suckers up too! Among the lost clips were a sweet li'l raga thingy by The Golden Road and some swell clips of Sapat--could it be that no one else at Terrastock recorded any of Sapat's set? :-()

Terrastock 7 Vid/Pic Diary
The Poster.
The Mellwood.
The Bubbles.
Captain Groovy (another Dallasite).
Terra-Heads before the Terra-Stage.
Wooden Shjips
under the shining mid-day sun.
Charlie from
The Linus Pauling Quartet
, still waiting for the bigtime.
Bardo Pond
anyone?
The Linus Pauling Quartet
melts all skulls with "La Tapatia."
Plastic Crimewave
smashes his guitar; not the best part of their set, but close.
Is that a Spacemen 3 or Funkadelic shirt?
Black Forest/Black Sea
live without a net (i.e. PA).
Tara Jane O'Neil
-- Gotta love this hottie.
Sapat
!
Major Stars
makin' 'em squeal.
Oneida
-scope.
Pelt
, lost in the now.
Epic
Mono
jam, complete with what looks like some dark spectre, or possibly Mike Tamburo, hovering mid-frame.
Amazing little impromptu moment resulting in a near
Abunai!
reunion. Sadly, Kris's beautiful skull is obscuring the lead guitarist from the Lounge's house band, sitting in here with some sweet fusion guitar licks. Yes, that's "Mother Sky" they're playing.
Mr. DroneOn.
The Black Twig Pickers
get down.
Grails
bash and crash.
Tanakh
gettin' high with a little help from some friends.
...and
The Golden Road
.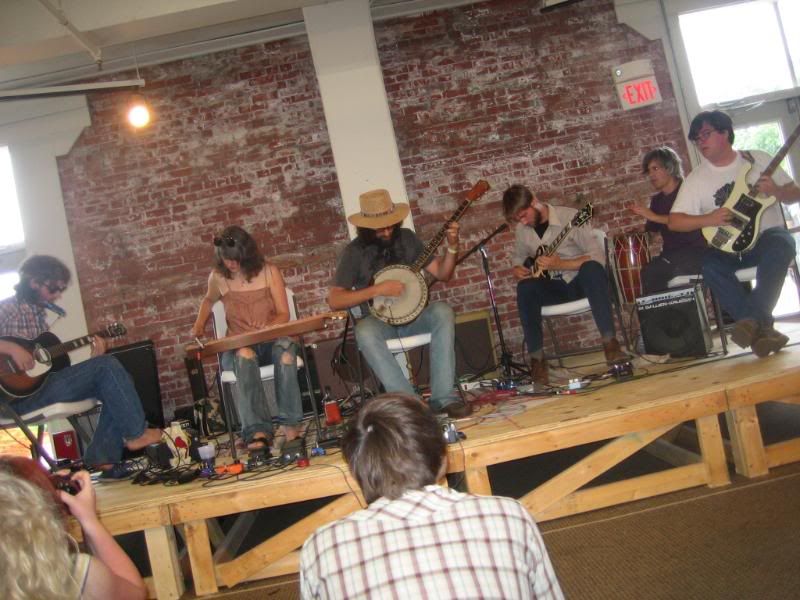 ...sitting down and canted.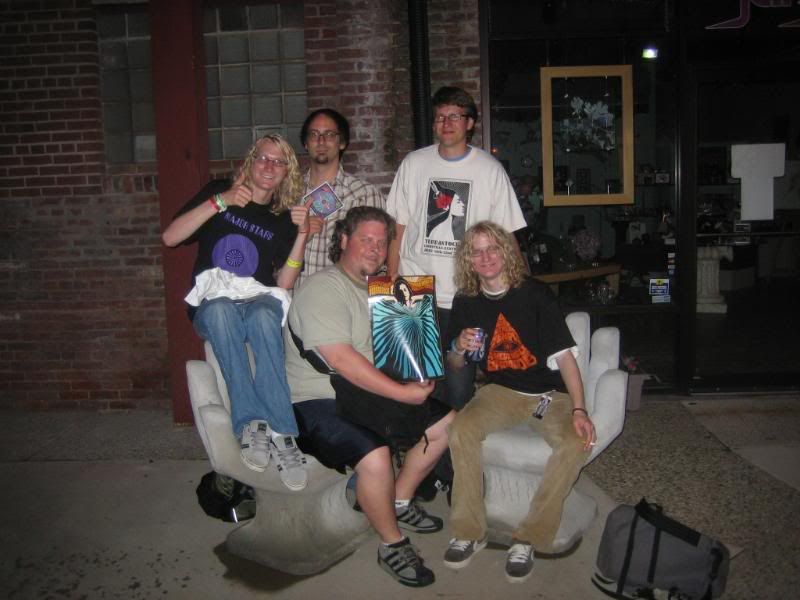 Sitting down and toasted.
And now...your moment of Zen.


Among a few regrets, really sorry I missed Keenan Lawler's solo set on the third stage Sunday, and Thee American Revolution outside too. Getting to know and meet Keenan sort of made up for missing him play (but not really). It was a great pleasure to meet the guy, great to see Mike Tamburo again, Ned Raggett, Phil McMuff, Kevin Moist, my old dear friend Mats G. from across the ocean, awesome to meet the J & J golden twins from St. Louis, cool to say hiya to MV and EE, Jeffrey and Miriam of BF/BS and a total gas being just ten feet from Randy Hammond as he tore the roof off the place during an epic jam of Savage Resurrection's garage psych classic "Thing in E" with Kohoutek. And to Travis., thanks as always, my brother.

Gratitude to all who took the time to record, especially Nari for filming like a champ. She remains ever the valiant soldier in the Celestial Womb Shadow Army. Click any vid for proper credits and other similar clips to peruse. I didn't cover a lot of great stuff here (Hush Arbors, Windy & Carl, Paik, Entrance, Elephant Micah, etc) mainly because of space constraints. Most of the pics came from Nari's fantastic Flickr photostream, and a couple came from my Photobucket, and almost all vids from various Youtube channels. See ya at the next one!