8/28/05, Austin, TX
:
Like the night, he crept onto the stage slowly and deliberately. There were three other performers in his band (two drummers and a bassist), but he still loomed solitary and apart. His frame was tall and slender, like an emaciated prisoner or a wilted dustbowler.
He approached the guitar case carefully, opened it, placed a book on the music stand, took strap in hand and attached it before sliding the ax over his shoulder. He said nothing the entire night. But oh, how he sang.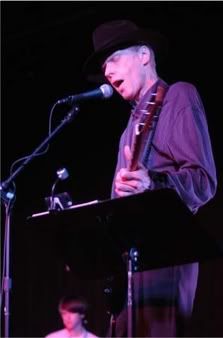 (Thanks to Nick H. for this awesome pic. Yes, that's Nick's pretty head popping up in the lower back.)
I could say more, but somehow it'd betray the sacredness of the evening. 90 mins: some genuine rock-out moments, a constant stumbling aura that was as nerveracking as it was mystifying, as based in the blues as jazz. Jandek is the most angular of them all. His shadow projected against the side curtain will haunt me for many moons. Nick Hennies and Chris Cogburn (two of Austin's finest avant percussionists) were on skins, and a boy named Juan Garcia was on bass.
The show was here:
The Austin Scottish Rite Temple and Theater
is a beautiful historical Masons lodge situated in the heart of downtown Austin. The night was filmed and recorded (but not by me! *wink, wink*). Barry Esson from Scotland even made the trip.
For obvious reasons, the New Orleans show (9/02/05) is canceled, though such an apocalyptic setting somehow seems proper for a Jandek concert. In Austin all the desolation just tends more to be internalized. My heart goes out to all those suffering through the floods and rising tides in NO. It's a beautiful city, and I pray she can recover, but I'm really afraid it will never be the same there.
Make a donation for the victims of Hurricane Katrina
here
.
More info on the Jandek shows can be found
here
.